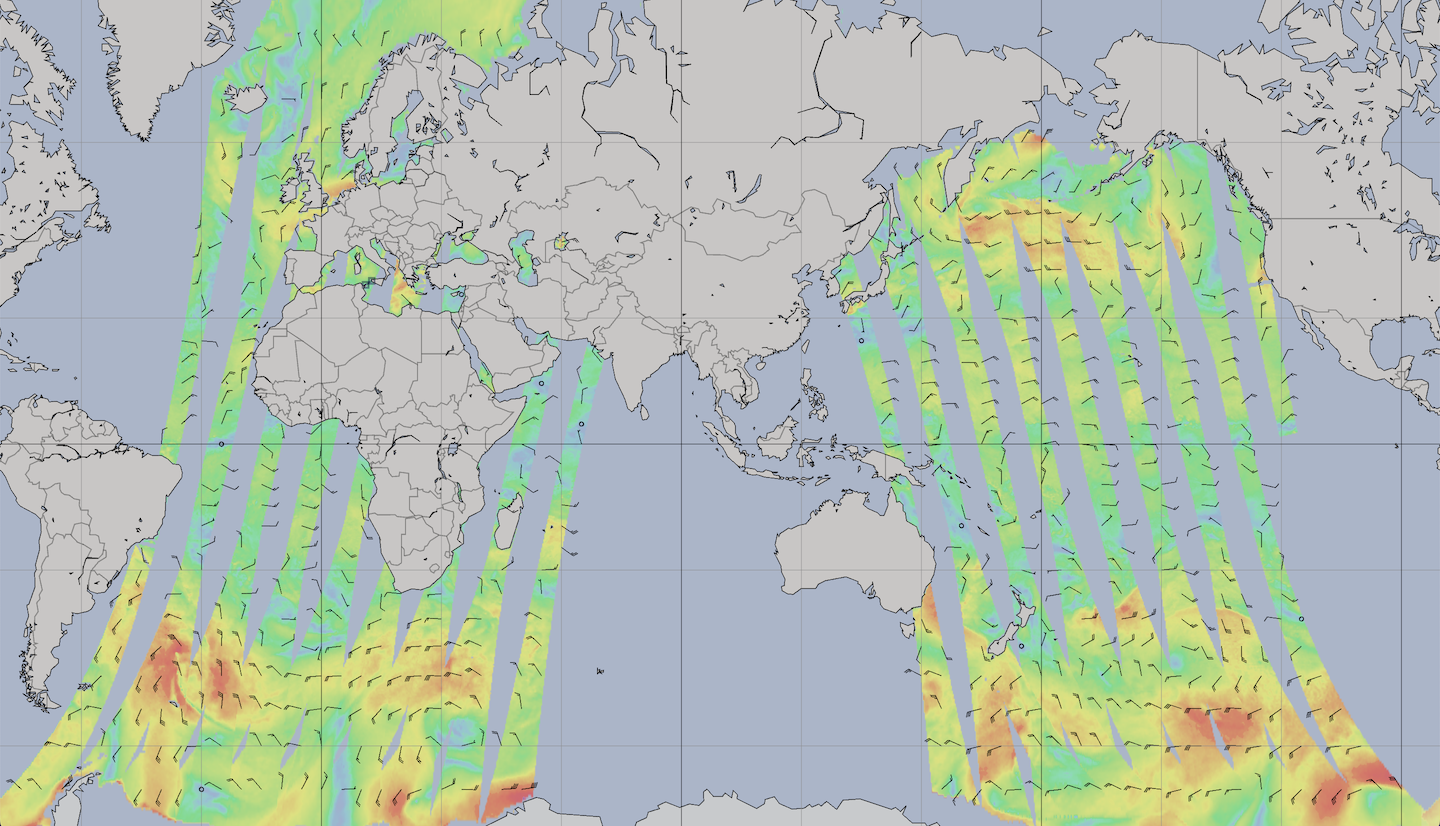 ASCAT - Advanced Scatterometer wind data
| | |
| --- | --- |
| Provider: | Ocean Prediction Center, National Weather Service, NOAA (USA) |
| Model scope: | Global |
| Update frequency: | roughly hourly |
| Resolution: | 0.25°, 15.0nm, 27.8km |
| Model duration: | all data at time: 0 hr |
| Parameters: | wind, ascat swath info |
| GRIB model date: | Wed Feb 10 01:40:00 2021 UTC |
| Download date: | Wed Feb 10 17:27:26 2021 UTC |
| Download delay: | 15hr 47min |
Note: the Download delay is the amount of time required for the GRIB model to compute its forecast and then for the LuckGrib cluster to download the data and make it available. The LuckGrib delay is generally less than 10 minutes, the remainder of the delay is the model compute time.
Note:
The ASCAT model is not longer updating. There is a problem with the source of this GRIB data. The problem is being worked on at NOAA, and when it is resolved, this model may be returned to service.
Until the GRIB data returns, you can view ASCAT wind images online.
---
Description
The data presented in this model is considered to be somewhat experimental. This is not forecast data. The ASCAT data is created by satellites which are able to observe ocean conditions and determine the wind speed and direction. This ability can be useful to obtain actual wind conditions as well as verifying earlier forecast data.
The following description has been taken directly from some official documentation
The Advanced Scatterometer (ASCAT) winds products are processed by NOAA/NESDIS utilizing measurements from the scatterometer instrument aboard the EUMETSAT Metop satellites. The instrument uses radar to measure backscatter to determine speed and direction of winds over the surface of the oceans. …