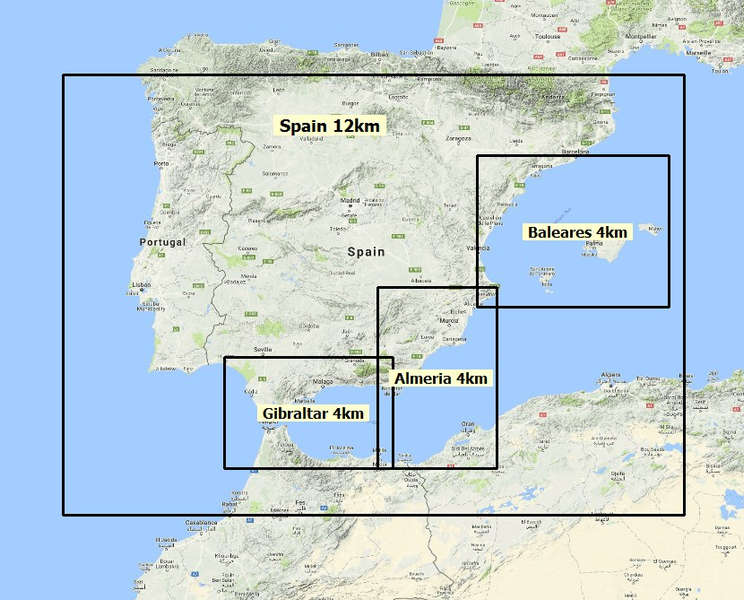 http://openskiron.org/images/imagemap/spanish-gribs.jpg
Spain - 12km
| | |
| --- | --- |
| Provider: | OpenWRF, http://openskiron.org/en/openwrf |
| Model scope: | Europe |
| Update frequency: | every 24 hours |
| Resolution: | 0.108°, 6.5nm, 12.0km |
| Model duration: | 29 forecasts starting at 0 hr, ending at 5 days |
| Parameters: | pressure, wind, wind gust, rain, cloud, temperature, humidity, convection, wind wave, swell, swell/wave combined, current, simulated radar |
| GRIB model date: | Sun Dec 10 06:00 2023 UTC |
| Download date: | Sun Dec 10 11:45:18 2023 UTC |
| Download delay: | 5hr 45min |
Related Models
This GRIB model is part of the Spain group of models:
OpenWRF
This model is part of the OpenWRF suite of models, which is made available through the OpenWRF project, run by David Gal.
The OpenWRF project is creating GRIB weather forecasts using the latest verson of the WRF-ARW model. The weather forecasts produced by this project are available in two resolutions: 12km for larger areas and 3km for smaller more detailed forecasts. The parameters in the forecast files include: pressure, wind, wind gust, rain, cloud, temperature, humidity, convection, wind waves, swell, current, and simulated radar.
To my knowledge, OpenWRF is the only source of simulated radar data for this area. Simulated radar can be useful in showing convection, as discussed in a short presentation by David Gal.
The vision statement for the OpenWRF project states:
I believe that any resource that has an impact on sailing safety should be freely and openly available to the sailing community. This includes high quality weather resources, navigational software and navigational charts.

Over the years my sailing knowledge has been enriched by fellow sailors from all corners. Likewise, I have always found a helping hand in the sailing community whenever needed. Now it is my turn to give something back to the community in the form of the resources available on this site.
If you use the weather data generated by OpenWRF on a regular basis, please consider contributing to the OpenWRF project. OpenWRF is delivering an important product, helping all people interested in European weather.