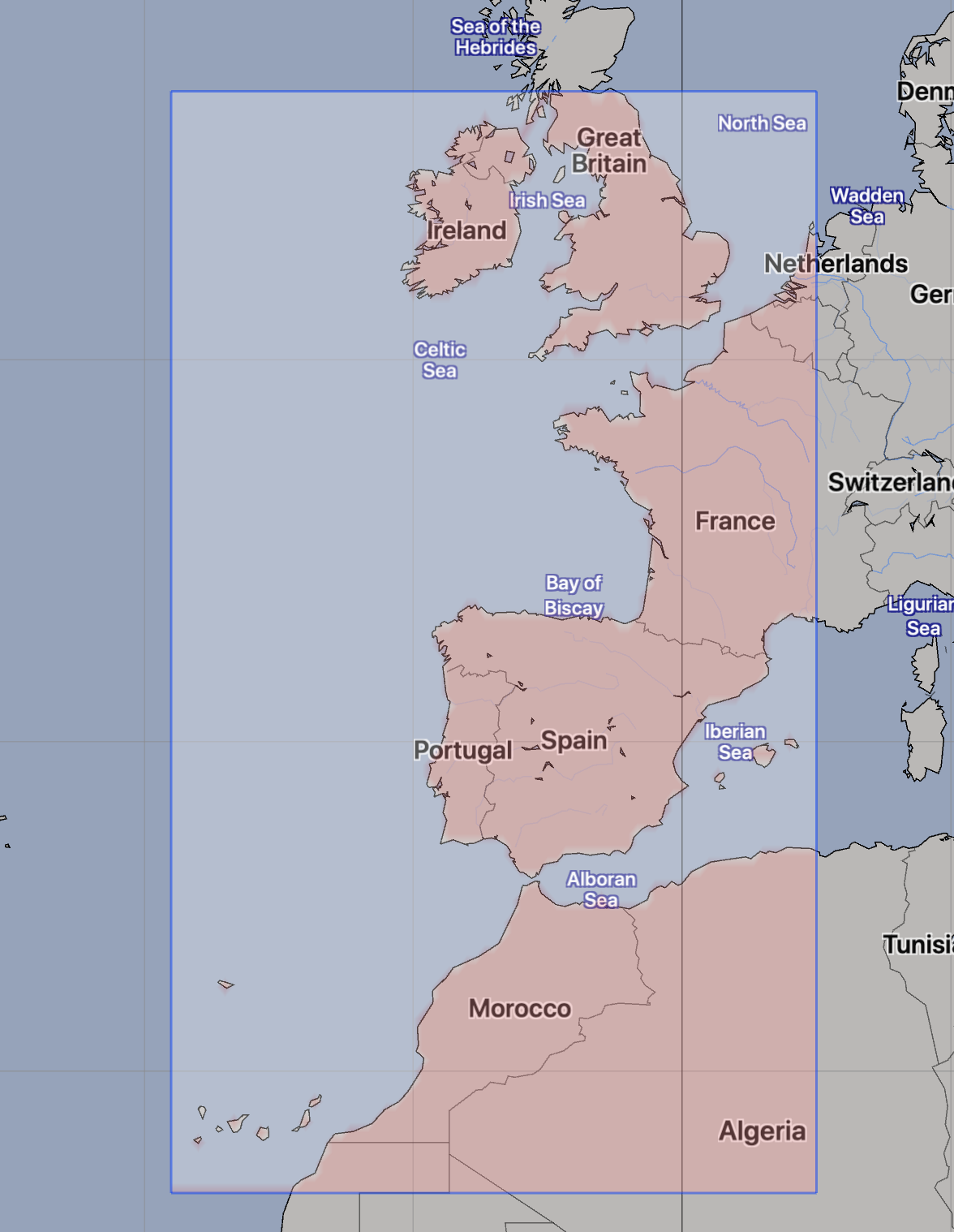 SW Europe Currents - E.U. Copernicus Marine Environment Monitoring Service
| | |
| --- | --- |
| Provider: | Generated using E.U. Copernicus Marine Service Information (CMEMS) |
| Model scope: | Southwest Europe |
| Update frequency: | every 24 hours |
| Resolution: | 1.7nm, 3.1km |
| Model duration: | 107 forecasts starting at 14 hrs, ending at 5 days |
| Parameters: | current |
| GRIB model date: | Tue Sep 19 23:30:00 2023 UTC |
| Download date: | Wed Sep 20 15:15:51 2023 UTC |
| Download delay: | 15hr 45min |
Note: the Download delay is the amount of time required for the GRIB model to compute its forecast and then for the LuckGrib cluster to download the data and make it available. The LuckGrib delay is generally less than 10 minutes, the remainder of the delay is the model compute time.
Description
The SW Europe current model is a high resolution model providing hourly forecast data covering the portions of west and southwest europe. The Copernicus site refers to this model as: Atlantic - Iberian Biscay Irish.
This data is generated using E.U. Copernicus Marine Service Information.
The data is made available through the Copernicus service, in NetCDF format, and is converted into GRIB-2 data by LuckGrib.
The operational IBI (Iberian Biscay Irish) Ocean Analysis and Forecasting system (daily run by Nologin in coordination with Puertos del Estado and with the support, in terms of supercomputing resources, of CESGA) provides a 5-day hydrodynamic forecast including high frequency processes of paramount importance to characterize regional scale marine processes (i.e. tidal forcing, surges and high frequency atmospheric forcing, fresh water river discharge, etc.). …
Note that the NW Europe Current model covers the northern portion of this model, and offers higher resolution data.
For additional information, see: