Mar 7, 2019. | By: Craig McPheeters
An update to LuckGrib is now available for both iOS and macOS. Once again, all of the improvements are available on both platforms.
There is a new weather file service being introduced with this version of the app, intended for offshore sailors and others who live or work in remote areas: the Offshore Data weather service.
Offshore Data provides a way for people living and working in remote areas to request that their weather data be delivered via email or by a new slow internet service. There are many ways of receiving email while in remote locations, mainly via a service using some sort of satellite connection or by a service using a HF radio connection. If you have access to remote email, you can use the new Offshore Data email service. Some people also have access to a device which provides very slow internet connections. The slow internet Offshore Data service can be used in this case.
The main innovation of the Offshore Data weather service over other offerings is that its compression technique is outstanding - the best available. Using this service, you have access to the entire suite of GRIB data available on the LuckGrib servers.
Please see offshore.luckgrib.com for more details.
The Offshore Data service is available as an in-app purchase.
Ensemble models - they're awesome
The support for ensemble models in both the LuckGrib application and in the LuckGrib server cluster has been greatly improved.
There is both a brief blog post and a longer tutorial describing the new ensemble support.
Briefly, the ensemble models now provide standard deviation and the control member information, along with the ensemble mean.
I'm pretty excited by the possibilities that this new ensemble support offers. It appears that the standard deviation is an expression of how certain the ensemble is in the answers it produces. Having an easily accessed expression of certainty in a forecast can be extremely valuable.
This new ensemble support could be very useful for people who are interested in evaluating long range forecasts, such as when sailors are doing departure planning.
Other improvements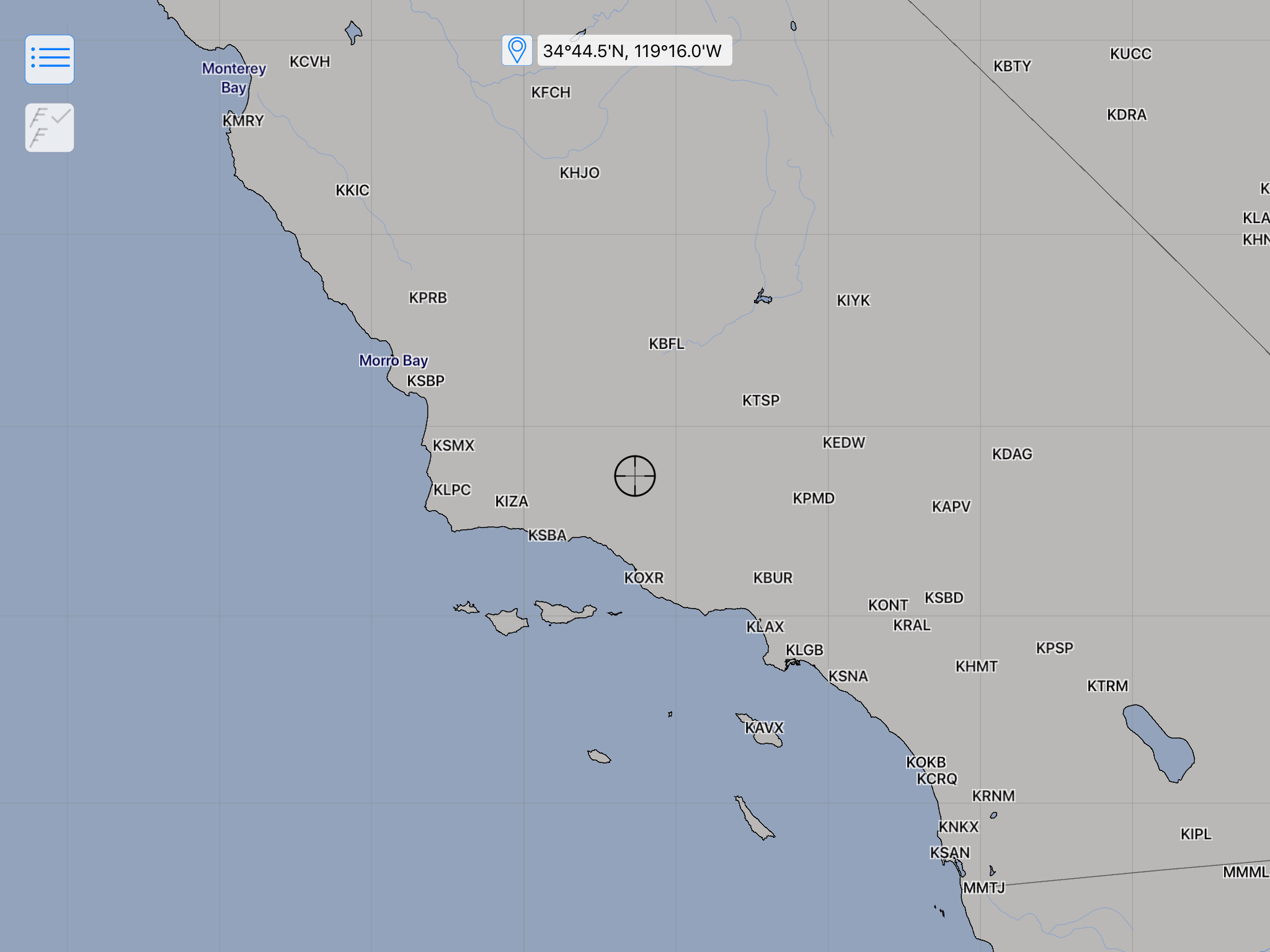 Airports!
In addition to the changes related to Offshore Data and ensemble models, there are a number of other improvements:
as shown above, airport names can now be shown. The app has support for over 10,000 airport names, worldwide

on iOS, there is a new tool available, which allows you to create a region to be used for a GRIB download. This allows you to create download files that are not the shape of your devices screen (which can be useful when using the Offshore Data service to reduce the amount of information you are requesting)

added a variety of methods to allow you to edit the region of a GRIB request (for example, by a distance along a heading)

on iOS, improved the location tool to show a marker at your current location. The location tool remains on and will track your location until you turn it off, or 5 minutes have elapsed

many other, smaller improvements
Feedback welcome
Feedback on these new versions is welcome. If you could leave a comment on the App store, that would also be appreciated.