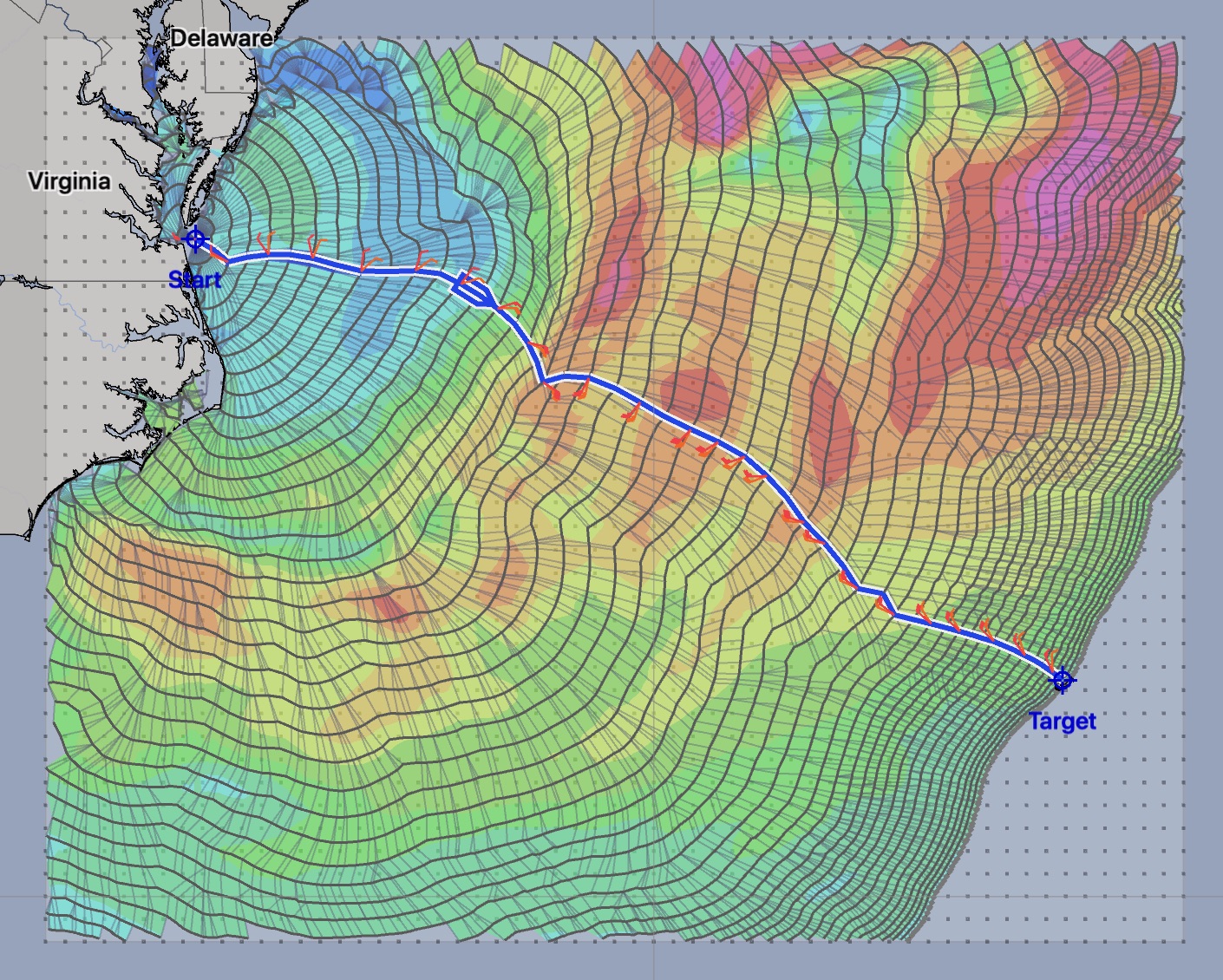 The Mac version of LuckGrib has a new feature, developed for sailors, to perform Weather Routing. With this introduction, LuckGrib customers now have access to the best weather routing system, for cruisers, that is available.
This system is documented extensively at the new web site: routing.luckgrib.com
Weather Routing has been around for decades in a variety of systems. LuckGrib is introducing a fresh, modern, easy to use, high performance implementation of Weather Routing, with many unique features.
As part of this weather routing system, an isochrone algorithm is used to create optimized paths through weather systems. Along with the generated path, there is a suite of tools that can be used to improve your understanding of the weather systems.
Some other systems simply provide you with a path to follow, without any of the supporting information to help you understand the reasoning behind the decisions, or alternative paths that are available. These systems are of limited use. LuckGrib allows you to evaluate the paths that can be generated, along with the context the larger weather systems provide so that you can understand what an optimzed path represents. LuckGrib allows exploration of uncertainty that is simply not possible in other systems.
With this improved understanding of the weather systems, captains and navigators make their own decisions. In many cases, you may decide to follow the optimized path that has been generated. In other cases, you may prefer to choose your own path, informed by what you learned from the system along with your larger long term goals.
LuckGrib's weather routing implementation will take ocean current and waves into account during the optimized path generation. You can provide your comfort preferences, such as avoiding areas with too much wind. Departure planning is fully supported. You can produce weather routes using the modern probability wind values, or ensemble models, to gain an understanding of the uncertainty in the forecasts. Compare the paths that are generated using different weather forecast models.
Both sailboats and motorboats are supported. There are many settings which can be used to influence the generated paths.
LuckGrib has long provided the best GRIB viewer available. With the introduction of the Offshore Data service, in 2019, LuckGrib provides the most efficient system available for downloading weather data while operating in remote locations. With this introduction of weather routing, LuckGrib now provides the best weather routing system available, for all cruising sailors.
If you are a sailor, you should evaluate this new addition to the application.